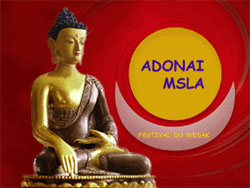 Wesak Celebration Brazil
Wesak Celebration Brazil
THE 2005 COSMIC CHRIST WESAK CELEBRATION - BRAZIL!
BEING THE CHRIST YOU ARE HERE TO BE!

HOSTED BY
I am University Brazil

- CHANNELINGS FROM THE ASCENDED MASTERS:
• MELCHIZEDEK, METATRON, LORD BUDDHA, DJWHAL KHUL, KUTHUMI, MOTHER MARY, MOTHER EARTH/LADY GAIA; LORD MAITREYA.
• LECTURE ON HOW TO BECOME A FULLY REALIZED INTEGRATED CHRIST IN THIS LIFETIME!
• TRAINING IN HOW TO BECOME AN INTEGRATED ASCENDED MASTER
• GROUP WORLD SERVICE
• PRACTICING THE PRESENCE OF THE BUDDHA
• SPIRITUAL RAFFLE
• SPIRITUAL DANCING!
• NETWORKING AND SOCIAL HOUR!
• WESAK FULL MOON CEREMONY
• SPIRITUAL ARTWORK
• TAKING OF INITIATIONS AND ANCHORING AND ACTIVATION OF LIGHT BODIES!
• SPIRITUAL AND PSYCHIC HEALERS!
• CONNECTING WITH ALL WESAK CELEBRATIONS GOING ON SIMULTANEOUSLY AROUND THE WORLD!
• SPIRITUAL LEADERSHIP TRAINING!
• ANCHORING AND ACTIVATION OF THE CHRIST BLUEPRINT!
• GROUP INITIATION OF MASTER BUDDHA AND MASTER KUTHUMI!
• ANCHORING AND ACTIVATION OF THE HIGHER CHAKRAS!
MORE TO COME!

Adonai – I AM
www.iamuniversity.com.br
www.adonaimsla.com.br


About Wesak
The term Wesak refers to a valley in the Himalayas, called the Wesak Valley! It is here, each year, that the inner plane Ascended Masters and Celestial Beings gather to hold the Wesak Celebration! Wesak is first off a celebration of Lord Buddhas birthday! This is especially significant for our planet, because Lord Buddha holds the Spiritual Leadership position called "Planetary Logos" in our inner plane Spiritual Government! This position was previously held by Beloved Sanat Kumara, however, in around approximately 1995, Sanat Kumara left for his next even larger Cosmic Position and still overlights Lord Buddha and the Earth, but on a much higher level. Lord Buddha ensouls the Earth now and is like the President of the Earth in a Spiritual sense! So Wesak has taken on even greater Spiritual significance given this occurrence! Lord Buddha is in charge of the evolution of all sentient beings on Earth! So the Celebration of his birthday and the Celebration of Wesak is an especially significant event for this planet!

Secondly, Wesak is a time for all Lightworkers to come together from East and West, North and South, from all Religions, Spiritual Paths, Mystery Schools, Channels, Spiritual Teachers, Gurus and Spiritual texts, to join in Spiritual fellowship, Celebration and Solidarity demonstrating the unity of all Paths to God!

Wesak is also a time for Celebration, Healing and Regeneration, before another year of Planetary World Service Work begins! Wesak occurs on the Taurus full moon each year! The exact date changes each year! This next Wesak falls on April 24th, 2005! Wesak each year is the high point of incoming Spiritual energies to the Earth!